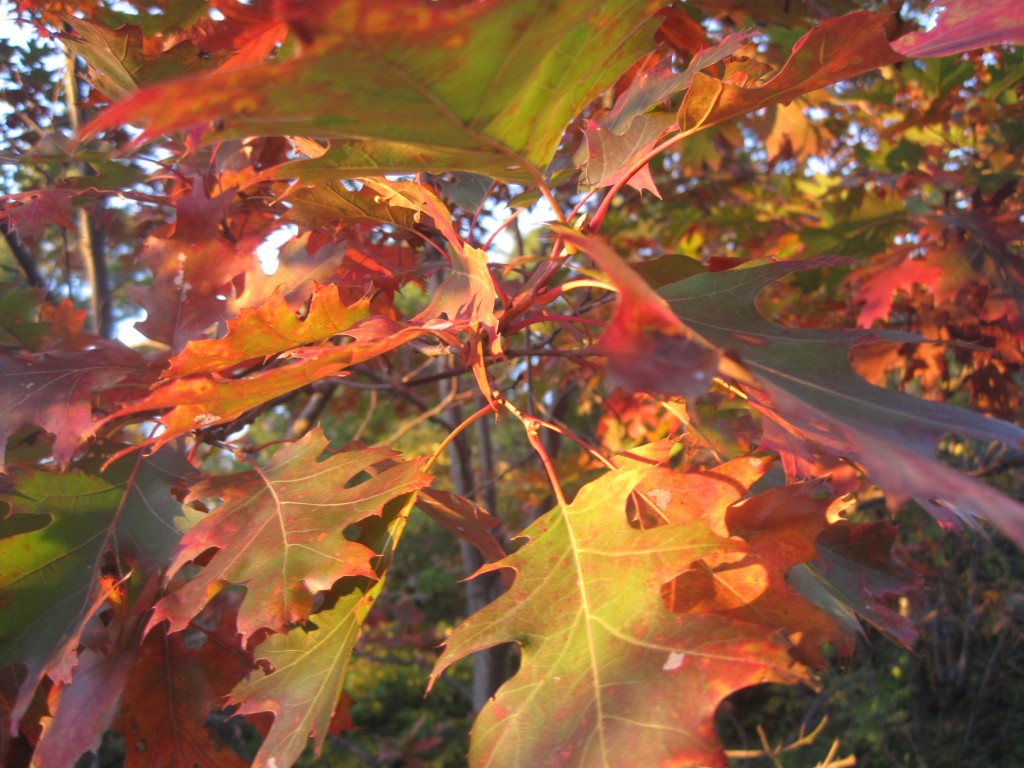 One early evening this September I stepped outside, took a deep breath, and inhaled a familiar aroma that I hadn't been acquainted with since this time last year. A feeling of excitement came over me as I continued to walk up Fifth Avenue, and I realized that this certain smell was autumn.
What does that mean – to smell like autumn? It's hard to verbalize, but it smells light, cool, and crisp, as though the air has gradually calmed down from exposure to the summer sun's bright rays. It is redolent of the leaves changing from deep and bright greens to warm red orange and amber shades, and it is aromatic of something that is slightly toasty and nutty, yet elusive in some way.
Autumn in the Northeast is completely unlike what I was used to growing up in San Francisco. A San Francisco autumn was unremarkable; the idea of leaves changing color was completely novel to me when I moved to the Boston area in 2004. I went to school at one of the most beautiful college campuses in the area and was able to fully experience a real New England autumn complete with Harry Potter-like Gothic-Georgian architecture in the background. The leaves slowly but surely changed color. I had no idea that a green leaf could turn into a deep magenta or purple shade, or that the same leaves that were orange could also become yellow before they crisped up and became brown. It was as though every day when I walked outside, I was constantly stunned by endless transformations and beauty.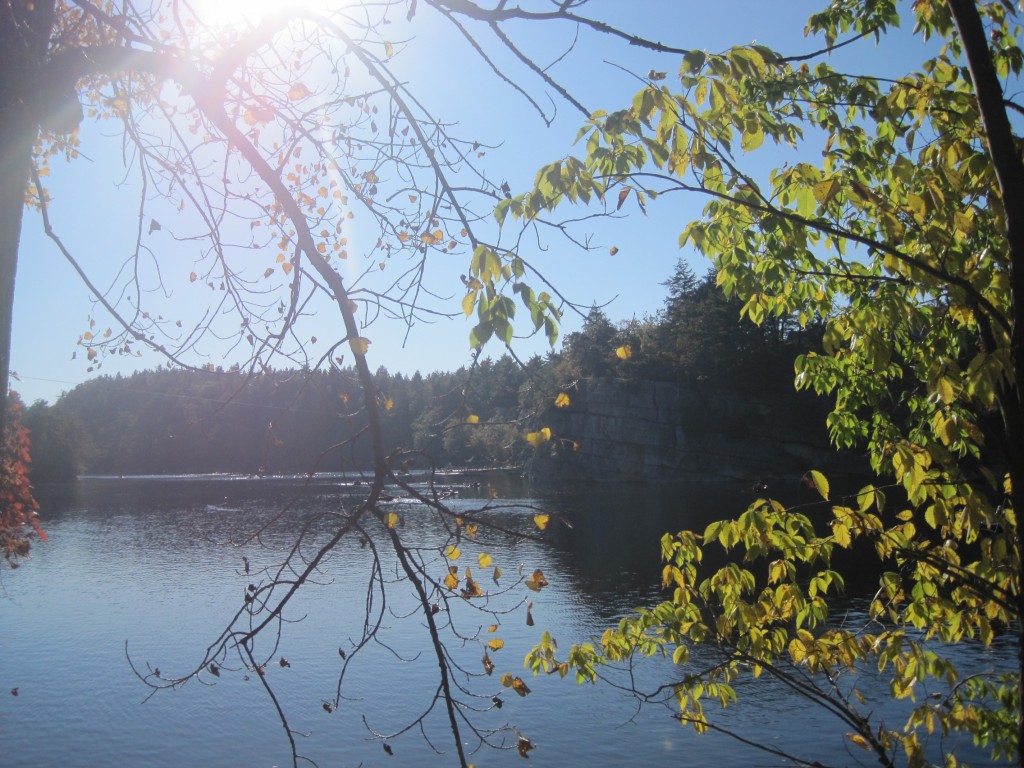 Throughout the last seven years, I've watched with wonder as I've passed children in parks embracing autumn's arrival. The glee with which they delight in autumn has never failed to bring a smile to my face – the way they thrash around in the leaves, rolling in them, tossing them up with their hands and kicking them and crunching them. I'm honestly not sure what warms me more – seeing the kids' carefree delight or observing the parents watch their children, realizing how amazing it is to derive joy from life's simple pleasures. Many times, I've been tempted to join in on the fun and jump up and down in the leaves with them, but then the self conscious adult side of me takes over and I decide that it wouldn't be the smartest thing to do.
I've spent the last few months experiencing autumn in urban areas in New York like Union Square, Central Park, and Madison Square Park, but have also been able to see it by leaving the city and going hiking in Mohonk Preserve and wandering around the Berkshires in Massachusetts. Autumn in the Northeast is the most spectacular when you are outside of the city and completely immersed in nature. The few times I have left, it's also helped me clear my head temporarily and just think about two of the simplest yet most complex things – love and life itself.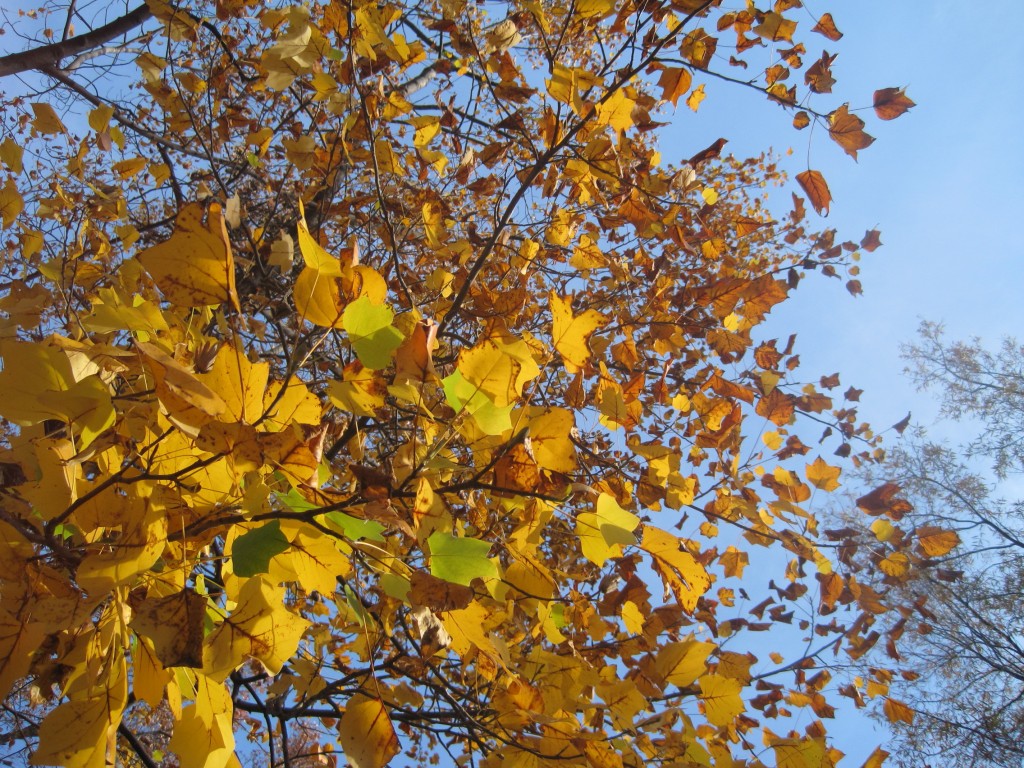 I always want to say that autumn is my favorite season, not just for that amazing smell that fills my nostrils as soon as September hits, and not just for the dramatic foliage, but also because it signifies the beginning of the holidays – Halloween, Thanksgiving, and Christmas – and the traditions I embrace each year. Carving jack-o-lanterns, cutting up different types of squash for soup, getting together with family and friends for extravagant and gluttony turkey meals, decorating Noble Fir trees with my newest and oldest Christmas ornaments, and making egg nog and holiday cookies; it's everything I love about life condensed into three short months of the year. If we just added some sun and warmth, it really would be the most perfect time of the year (I am slightly conflicted, though, because I also love watching the snow fall and lightly dust itself onto the city around me).
Autumn also means that I can get back to my favorite place in the house, the kitchen, and begin baking again. I bake the most during the autumn and winter, and one of the things I've been making without fail for the last four years has been pumpkin bread.
The spice combination in this bread – cinnamon, nutmeg, and ginger, combined with cranberries and toasted nuts, is one of the best ways to welcome autumn back into our lives. That spicy smell wafting through my apartment just conjures up all of the memories I have of every autumn I've spent on the East Coast.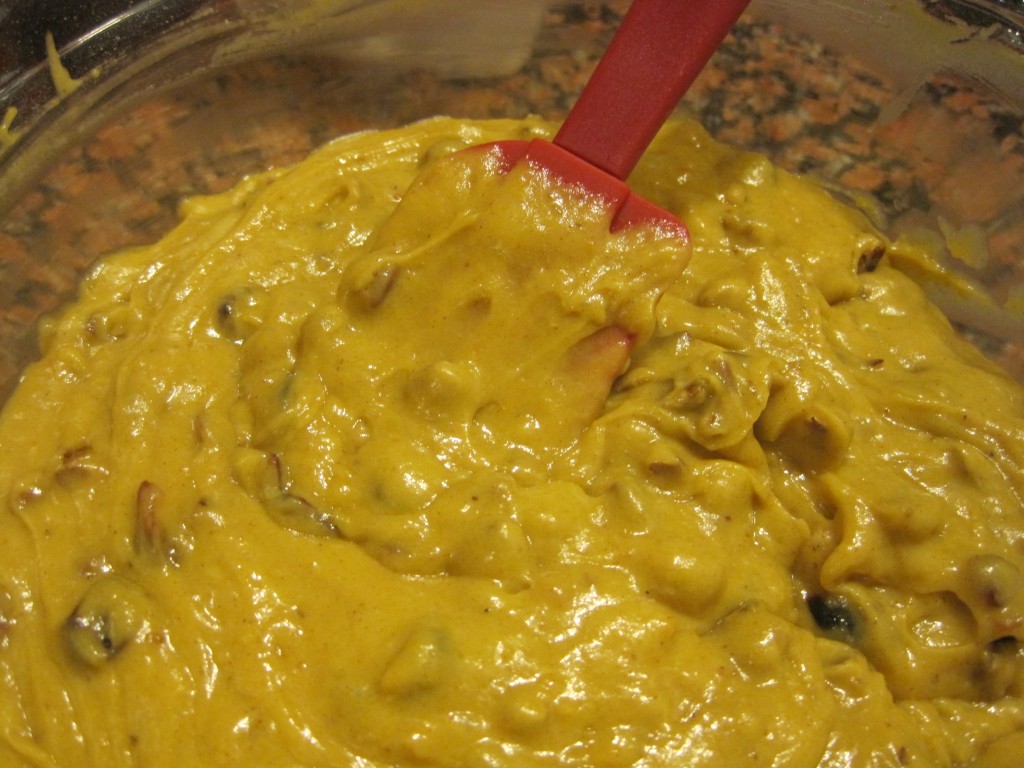 Pumpkin bread is a really simple quick bread to make. Canned, unsweetened pumpkin is readily available at almost any grocery store, and I can speak from experience when I say that cutting up, pureeing, and straining a real sugar pumpkin for your pumpkin bread or pie is not really worth the effort. The taste will be exactly the same, so you should save yourself some trouble and just buy the canned stuff. The canned stuff is really good, so there's no reason to dismiss it.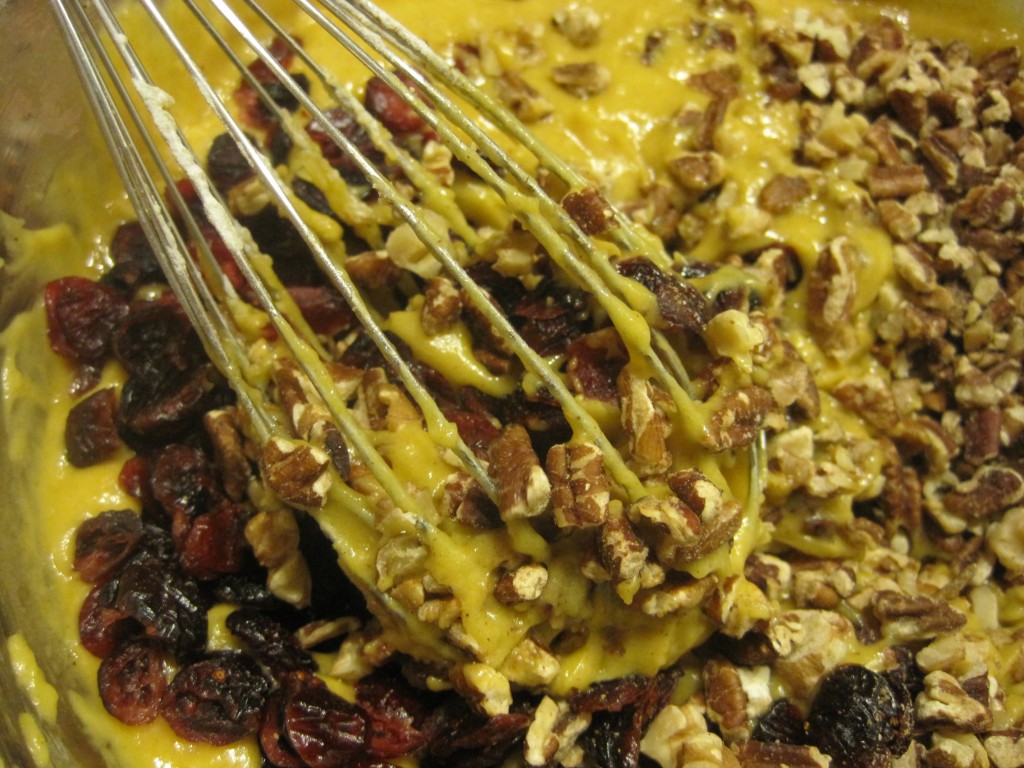 I always like to add either dried cranberries and/or toasted, chopped walnuts or pecans to my pumpkin bread. Both dried cranberries and toasted nuts always remind me of the autumn, and what's better than making an autumn sweet bread taste even more like autumn?
I got this recipe from the resident director at my dorm in college. He loved to bake and cook, and in the autumn, he made several loaves of this pumpkin bread and shared it with all of us. It was love at first bite – I immediately asked if he'd be so generous as to share the recipe with me, and share he did. Although I'm no longer in touch with him, his baking legacy lives on with me and everyone else I love who gets to benefit from the fruits of my autumn baking.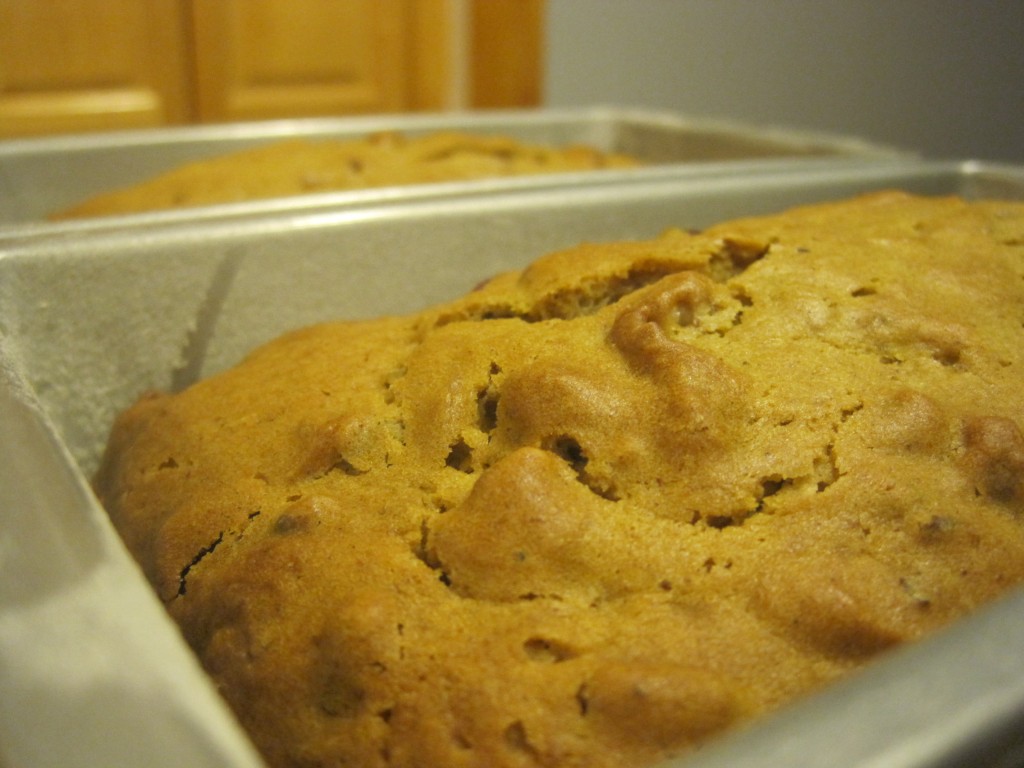 Pumpkin Bread with Cranberries and Walnuts

Adapted from the 2005-2006 Stone Davis Resident Director's recipe collection

2 C. sugar
1 C. vegetable oil (canola or corn)
3 eggs
2 C. cooked/canned unsweetened pumpkin
3 C. flour
½ tsp. baking powder
1 tsp. baking soda
½ tsp. salt
1 tsp. ground ginger
1 tsp. cinnamon
1 tsp. nutmeg
1 tsp. cloves (optional)
4 C. dried cranberries
1.5 C. toasted, chopped walnuts or pecans
Preheat the oven to 325 degrees F.
Combine the sugar and vegetable oil in a large mixing bowl; mix well. Add the eggs, one at a time, until incorporated. Combine the all of the dry ingredients in a medium mixing bowl. Mix the pumpkin into the egg mélange, and when combined, gradually add in all of the dry mixture. Stir in the cranberries and nuts. Put into two greased loaf pans. Bake the loaves for 1 hour.